COMPUTER RELATED INJURIES! PREVENT 5 MOST COMMON INJURIES!
ACUPRESSURE VS. COMPUTER RELATED INJURIES.
THIS HOLISTIC APPROACH IS 100 PERCENT DRUG-FREE!
Your're probably rolling your eyes and thinking "Oh great, another article telling me how unhealthy it is to be working on the computer" and Computer Related Injuries are so common. This article is not about preaching to turn off the computer and going for a long walk this very moment. It's about finding Healthy Solution to this growing problem. In fact, I love computers, I don't think I'll ever quit sitting in front of a computer. Now after having my own experience, I make healthy choices, take breaks in between, which helps keep the diseases associated with using computer away. In other words I've Grown Smarter.
The need for a Good and Safe solution to the problem of Computer Related Injuries has never been greater than it is Today! It seems like working on the computer may sound like the most Relaxed Job in the world, but it's quite the contrary. In this article you will discover the hidden treasures of Acupressure and how this holistic approach will Not Only help You Prevent 5 most Common Computer Related Injuries but will I prevent them from coming back.
BASIC TERMINOLOGY: To understand Computer Related Injuries requires and introduction to some of the Basic Terminology of musculoskeletal injury.
Muscle Spasm: excessive muscle tone; usually caused by a reaction to postural fatigue, tissue injury, or psychogenic stress.
Cervicognic headaches: headaches caused by irritation of the tissues of the neck by any of the tissue dysfunctions.
Strain: injury to a muscle or tendon (the tissue that connect muscles to bones); usually due to repetitive overuse, fatigue, over stretching, excessive contraction, unguarded movements, postural loading, etc.
Myofascial trigger points: local points of severe muscle spasm caused by postural strain and repetitive use; they may be initiated by many physical, chemical, or psychological stresses. Trigger points can "Trigger" local and referred pain when pushed on, when sever they can cause pain even without pushing on them.
Repetitive Strain Injury (RSI): damage to the tendons, nerves, muscles, and other soft tissues of the body caused by specific repeated movements which overstress the tissues; another name for RSI is cumulative trauma disorder (CTD).
Tendonitis: inflammation of a tendon; usually caused by excessive repetitive or abnormal motion.
Joint Pain or Dysfunction: abnormal joint operation due to weak or lax supporting muscles or ligaments, or conversely excessively tight supporting tissues; dysfunction can result in pain, abnmormal motion, and eventually degeneration and nerve interference.
What is ACUPRESSURE. CLICK HERE TO FIND OUT.
1.POOR CIRCULATION FROM SITTING TOO LONG: Working on a Computer for too long on a daily basis involves sitting. SItting has long been known to cause back pain and negatively influence circulation, which promotes ailments in the body (especially Low Back Pain, Hip & Knee Pain, Cardiovascular disease, etc..). Whether you sit in front of the computer, the TV, or while reading a book, sitting for long stretches of time is a very serous health risk! Mainly because it affects blood circulation, the back experiences a steady stress. This caused the muscles in the back to weaken and prone to injuries. Click HERE To Learn About Serious Health Issures From Sitting Too Long.
2. POSTERIOR CERVICAL DORSAL SYNDROME ("COMPUTER BACK") (POOR POSTURE): A very common postural syndrome in modern society involves excessive rearward curving of the lower, middle, and upper back; forward drawn head, rounded shoulders, and excessive forward curving of your upper neck. This syndrome has been given several names including stereo-symphyseal syndrome, posterior cervical-dorsal syndrome (constant neck pain /stiffness) or more commonly called computer back or student syndrome. It is a natural result of prolonged sitting work, especially with computers. These posture also defects in turn can cause: Headaches, Excessive muscle tension isn't he neck, chest, shoulders, arms and forearms, Carpal tunnel Syndrome, Tennis Elbow, Strains and Trigger points the above muscles, Joint pain and dysfunction Increased loading on vertebrae discs of the spine, etc…
3. "MOUSE SHOULDER": As Good a name as any, "Mouse Shoulder" is a syndrome arising from prolonged elevation and bracing of the shoulder to accommodate and inappropriately positioned mouse, or performing short range movements of the mouse, or usually both. This syndrome results in severe shoulder and shoulder blade muscle spasm in the trapezius, deltoid, and there's muscles and trigger points with referred pain in the arm. If left untreated, this problem can develop into a much more serious rotator cuff injury.
4. LUMBAR SPRAINS AND STRAINS: Lumbar spine sprains (ligament or joint capsule tears) and strains(muscles or tendon tears) are common in office workers due to the height loads placed on the spine during sitting. Sprains and strains may cause back and hip pain as well as muscle swelling and tightness.
5. DISC INJURIES: Increased stress on the spine due to prolonged and faulty sitting postures may cause sprains of the outer (annular) fibers of the intervertebral discs. In more advanced cases the soft inner material (nucleus) of the disc may protrude into or even through the annular fibers of the disc, resulting in a herniated disc. Herniated discs may cause back pin, leg pain and altered sensation down to the foot, weakness, walking difficulties, or combination of these symptoms.
HOW CAN ACUPRESSURE HELP PREVENT THESE COMPUTER RELATED INJURIES?
Acupressure is one of the Safest and Most Effective ancient alternative healing method. It is based on the concept of spiritual and holistic philosophy. Blood circulates throughout our body to sustain life. If the blood flow is blocked or interrrupted, the body responds by sending a warning signal in the form of symptoms which can cause pain. Applying Acupressure Techniques using Balls of Bliss Acupressure Tool will help promote blood and oxygen flow even in the deepest body tissue, The firm pressure applied with your own body weight by laying on the tool will help release toxins from the muscle fibers, enabling the nervous system to relax. This process releases "endorphins", body's natural healing hormone. Within 15 seconds to 1 minute of applying pressure with Balls of Bliss Acupressure Tool, you will notice the pain will diminish and be replaced by a relaxed and warm feeling.
WATCH STEP BY STEP VIDEOS ON HOW ACUPRESSURE TECHNIQUES USING BALLS OF BLISS ACUPRESSUR TOOL CAN PREVENT COMPUTER RELATED INJURIES: FREE HOT STEPPER FOOT ROLLER. 30 DAYS MONEY BACK GURANTEE!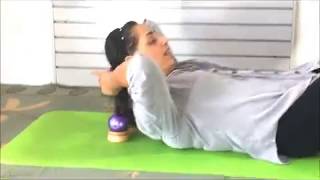 Relieve headaches/migraines dem. video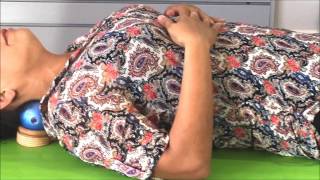 Neck pain relief dem. video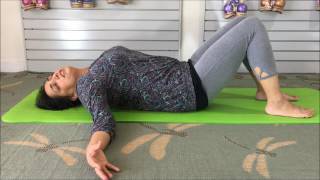 shoulders/traps pain and stress releif dem.video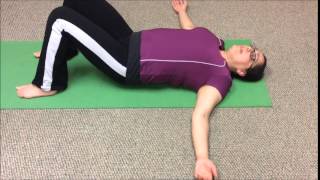 Dem. video lower back / sciatica pain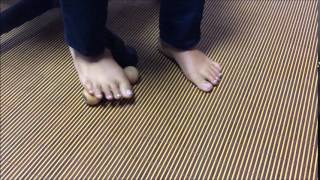 Hot stepper foot roller dem. video
Relieve headaches/migraines dem. video

GB 20: iUnder the hollows of the skull. Within 15 seconds to 1 minute of Applying acupressure technique using Balls of Bliss Acupressure tool you will notice the pain diminished and be replaced by a relaxed warm feeling. Made of maple and oak wood in U.S.V.I.

Neck pain relief dem. video

Placing Balls of Bliss tool under the neck (2 stability rings included to elevate the balls) for only 2 minutes will loosen the neck muscles, increasing blood and oxygen flow, proper aligning the neck, relaxing the nerves. Balls of Bliss Acupressur tools made of maple and oak wood in U.S.V.I.

shoulders/traps pain and stress releif dem.video

Trapeziuz muscle pain can cause tension based headaches, vertigo symptoms, shoulder pain, carpal tunnel syndrome, headaches, etc. Applying acupressure techniques using massage tools like Balls of Bliss Acupressure tool can help fix these symptoms. Made of maple and oak wood in the U.S.V.I.

Dem. video lower back / sciatica pain

Low back / sciatica pain can cause leg pain, numbness, pins and needle like pain, hip pain, mid back pain, etc..Balls of Bliss Acupressure tool will help. The firm pressure applied with your body weight when you lay on the tool willl help release the compressed sciatica nerve, increasing blood and oxygen flow in the affected area, thus relieving the pain . Maple and oak wood product made in U.S.V.I.

Hot stepper foot roller dem. video

Experiencing foot pain? Is it Plantar Fasciitis? Excruciating pain in the heel of the foot upon waking in the morning. Trying to put the foot on ground can be dreadful. Hot Stepper foot roller is designed to cure plantar fasciitis pain upon using it for few minutes daily. Within 2 weeks or less plantar fasciitis is cured. Maple and oak wood made in U.S.V.I.